Progress among friends
Pacing Thing is a tiny social platform where we keep each other going on our independent projects and studies.
Our way is to work a small amount, daily or weekly, and over time it adds up to a lot. It's like compound interest, like a snowball or a big wave for our tropical friends.
If you've got goals you've been putting off, you've come to the right place.
Do a bit of work with us every day and, drip-by-drip, you will achieve wizardry, you will be granted more and more choice in how you spend your time, and you will give yourself the ability to contribute in powerful ways.
You will no longer be terrorized at night by the Ghost of Christmas Future. Instead, you will be shown a future of pleasant abundance.

    .-.
   ( " )
/\_.' '._/\
|         |
 \       /
  \    /`
(__)  /
`.__.'

Join us for a session or two:
Join this group if you have a fledgling project, want to try your hand at a side-hustle or want to see if you can get a better job.
Every day do something to put yourself or your product out there.
Examples:
Apply for a job
Share your work
Post a blog
Phone a prospective customer
Put up a poster on a lamp post
Get feedback
Make a shelf out of wood and ask if anyone wants to buy it
Draw or paint a picture of a classic GMC motorhome in a style you can do quickly. Post it to the Facebook Group for owners of classic GMC motorhomes. Ask if anyone wants to pay you $100 to make a portrait of their GMC motorhome.
Email a thing you made to 10 people who might like it. Say "here, I made this". Then ask them to forward it to anyone they think might like it. If it doesn't spread, try a different sort of 10 people, or make a different thing. Keep doing this until you have a winner.
Report the results of your marketing experiments to the group. The idea is to have your project interacting with the real world in some way that could either lead to more traction or learning something about the market which you wish to serve.
By the way, here is what a GMC motorhome looks like. It's one of the greatest RVs in history and has many devoted fans: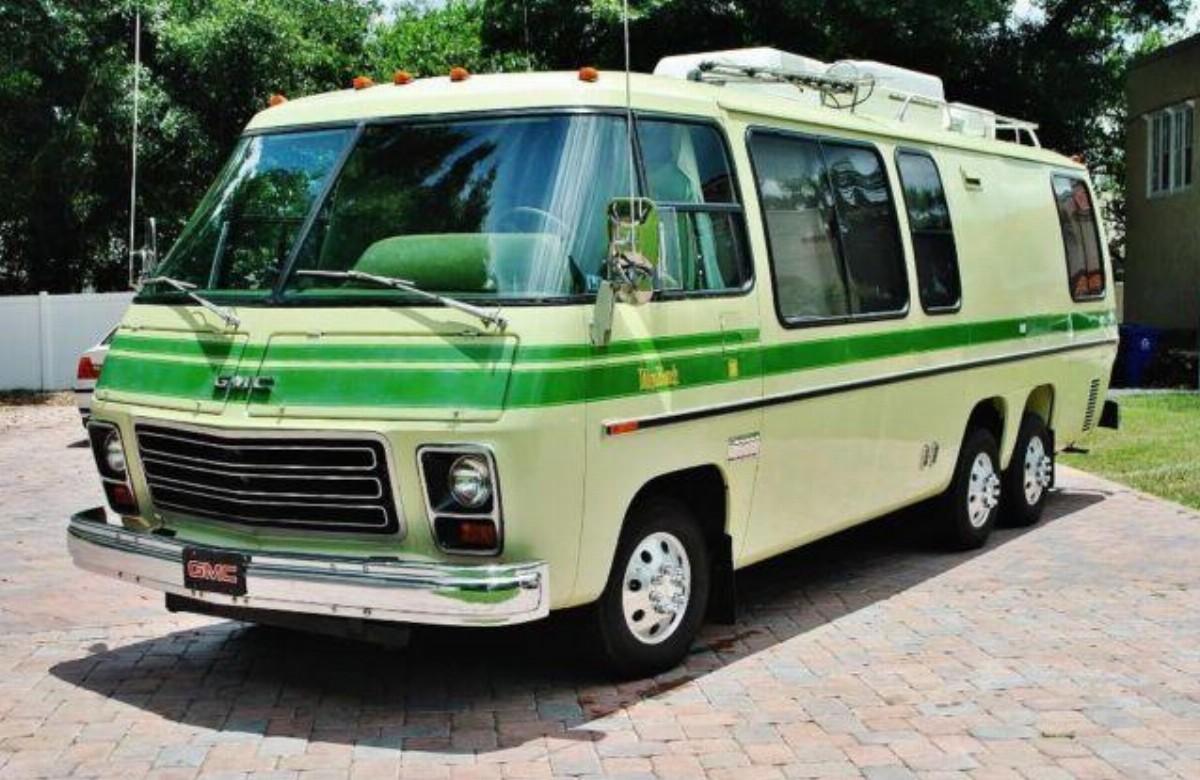 Learn more
Join this group if you know that you need to further develop your skills in an intentional way.
21 days, 2 minutes per day.
Learn any skill which will help you do what you need to do in the world. Or, simply learn for the pure enjoyment of it or to cultivate curiosity.
This is the flag-ship group of the Pacing Thing community.
Learn more
Join this group if you want to experience the rush of understanding next time you hear that certain language you've always wanted to learn.
21 days, 2 minutes per day.
Most of us use Duo Lingo, which is free, but you can use whatever learning materials you want.
Learn more
The mother of all skills. Learn to calm down and stop rushing into the future. Learn the art of radical acceptance.
21 days, 30 seconds per day.
Guided meditations are provided / suggested, but you can use whatever materials or system you want.
Learn more
Speaking of the Ghost of Christmas Future, if there's one thing for sure, it's that exercise makes life better now and later.
21 days
Any daily exercise. I do what I call Wimpy Jogs. They may be wimpy, but I do them every single day thanks to my friends in this group. Join us!
Learn more
I'm in all of the above groups. Hope to see you in there.
Commitment is low, but that's how we get things done here.
- Lyndon